"Isn't it a better thing to travel hopefully than arrive?" - Susan Foreman in The Sensorites

By official count the 7th Doctor Who story (ever) and Susan's most substantial part in the second half of her run in the series prior to her exit, The Sensorites has much of the qualities and shortcomings one finds in early Doctor Who
: a number of good, commendable ideas (some of them original and/or fresh at the time) and a capable cast and production working within obvious limitations including a budget so low that the entire production and personnel tab for the serial was probably less than the personnel involved in the new series spends on breakfast cereal.
Whether this DVD can be recommended depends upon how heavily the qualities and shortcomings above weigh with one. If one is all about ideas and can deal with a virtually live, rushed and often threadbare low-budget stage-bound presentation, one just might find these programs captivating. If one expects an opposite extreme of rapid-fire, high-impact action and drama punched up by flashy polished production, one had best look elsewhere. But in any case, if one wants to see what one can of Susan, whether as a fan of Susan or as one who wants to understand the answers to criticisms that have sometimes been termed "The Problem with Susan," one must be sure not to miss The Sensorites.
So bring on the DVD, BBC. The current BBC and The Doctor Who Restoration Team will, I expect, prove to have earned props for coordinating another remarkable salvage, raising the technical quality from incredibly dingy and distorted to something with a more acceptable technical quality than has ever been seen (since the BBC destroyed the master tapes, anyway). I'm sure looking forwards to seeing it. In addition, there are some bonus features and - going on 50 years after production of The Sensorites - a commentary including original cast members Carole Ann Ford and William Russell.
For reference (not endorsing etc Amazon)
PAL R2 (UK)
http://www.amazon.co.uk/Doctor-Who-Sensorites-William-Hartnell/dp/B006H4R9HA/
NTSC R1 (US)
http://www.amazon.com/Doctor-Who-Sensorites-Ep-07/dp/B005SH65GI/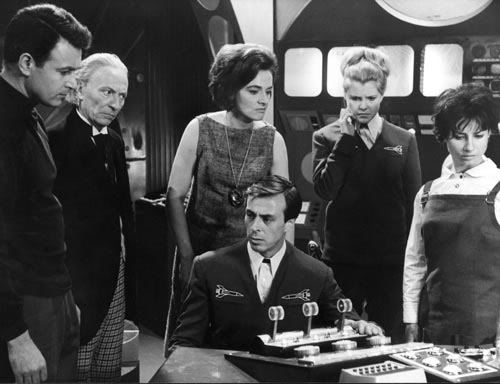 (image is a publicity still from 35mm not a frame from the DVD)

This is my first post as new admin/owner of this community. Acknowledgement goes to original founder amaresu for establishing this com and helping me to see there was some "Susan love" to be found out here.